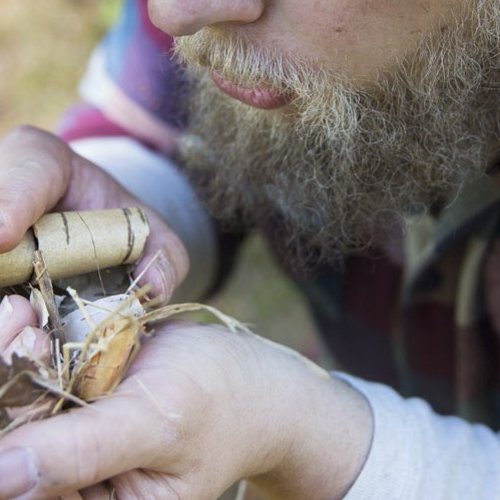 Fire
Do you want to buy a flint and steel or firesteel to take with you during your bushcraft adventures? We have a large assortment of firebrands and flints that you can buy in our webshop. Making fire is the first skill you think of when someone talks about survival. It is the most important skill to master when you are on your own in nature. Fire means warmth, safety, preparing food and boiling water. You can use equipment that you find outdoors, but it will go a lot faster with our handy tools. You can buy a flint and steel or firesteel quickly and easily in the webshop.
Buying a flint and steel or firesteel is essential for your survival trip
Making fire is essential on almost every survival trip. Besides, it is just nice to have a nice crackling fire to sit around. Buying a flint and steel or firesteel will make it easier for you to make a fire. If you want to make a fire effortlessly, use one of our many firestarters. Items such as a firesteel, tinder stick, storm lighter or storm matches should not be missing from any survival kit. You can choose from several top brands, including Kupilka, Hultafors, Light My Fire and Smith's.
Buy all your survival products in our webshop
Once you have made a fire with a firesteel for your food preparation, the most important work is done. But that's not all. Besides a pot or pan to put your food or water in, you'll usually need a burner to cook everything properly. Use a fire bowl, with or without legs, that allows you to prepare food even without cooking utensils, just by putting everything on or in the bowl. Also choose a good survival knife to cut things with. Check out all our food, drink and cooking products to complete your survival kit. For any questions contact us at +31621912687 or send an e-mail to [email protected].