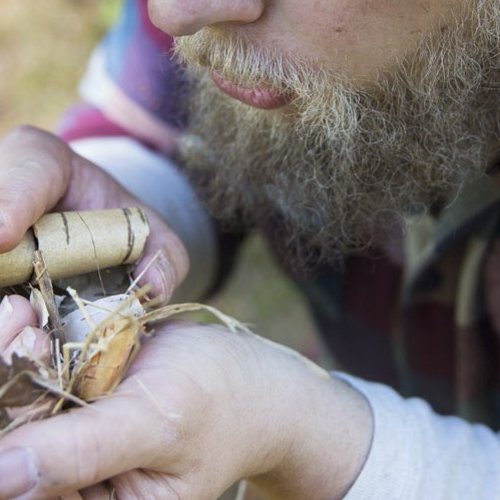 Fire
Making a fire
Fire making is just about the first skill you think of when someone is talking about survival or bushcraft. It's also the most important skill to master when you're in nature and you're on your own. Fire means warmth, safety and being able to prepare food and boil water. Of course you can use things you find outside, but a lot faster with one of our handy tools, such as a firesteel or a torch lighter. You'll find it all in the webshop, as well as indispensable burners and fire bowls to prepare your food and drinks.
Fire-making is essential on almost every survival trip. In addition, it's just nice to have a nice burning fire that you can all sit around.
If you want to make a fire effortlessly and in no time at all, use one of our many firestarters. Items such as a firesteel, tinder stick, torch lighter or storm lucifers shouldn't be missing in any survival kit. You can choose from several top brands, including Strikeforce Kupilka, Hultafors en Light My Fire and Smith's.
Cooking and baking
Once you've made fire for your food preparation, the most important work is done. But you're not there yet. Next to a pot or pan to put your food or water in, you usually need a burner to be able to prepare everything properly. Or a fire bowl, with or without legs, with which you can prepare food even without cooking utensils, just by putting everything on or in the bowl.